Comments Off

on Tackling Plastic Pollution at the EVI
'Sustainability' is everywhere at the moment, and the Ebbw Vale Institute is on board with this and has an on-going sustainability drive at the building and in the community. Back in April Llamau, a leading homelessness charity in Wales, held a plastic pollution workshop at the EVI for Earth Day.
Llamau's Laura Wheeler, who was hosting the workshop, is herself really passionate about plastic pollution. Laura started by showing the young people attending some shocking images of plastic pollution, like birds and marine wildlife being choked by debris or fishermen sailing through toxic reefs. She then asked them how that made them feel.
How does plastic pollution make you feel?
"Sick", came one answer.
"Sad", said another.
"Guilty. Depressed. Ashamed. Shocked. Disgusted."
Clearly, nobody is proud of the effect mankind's hunger for plastic has had on the planet's oceans. But how does it affect us?
Plastic, plastic, everywhere
It was time to think about the prevalence of plastics in all areas of our lives. There are microbeads in skincare products and plastic in polyester clothes. Things made of card, glass or wood can even have small plastic additions. When you wash synthetic clothes tiny plastic microfibres get into the water supply. The fish digest this plastic and then we eat the fish. They took a look at medical equipment too, like asthma pumps, drips, jabs and more. It was agreed that this was a worthwhile exception.
The group considered the cost-benefit analysis of reducing our plastic usage. The average adult buys three plastic water bottles each week. If we stump up the extra cost for a nice reusable bottle, how long until we start making back that initial investment? When you're on a tight budget, sadly, even a small initial cost can be a big deterrent. Should the government and big corporations be making it easier for individuals to make sustainable choices?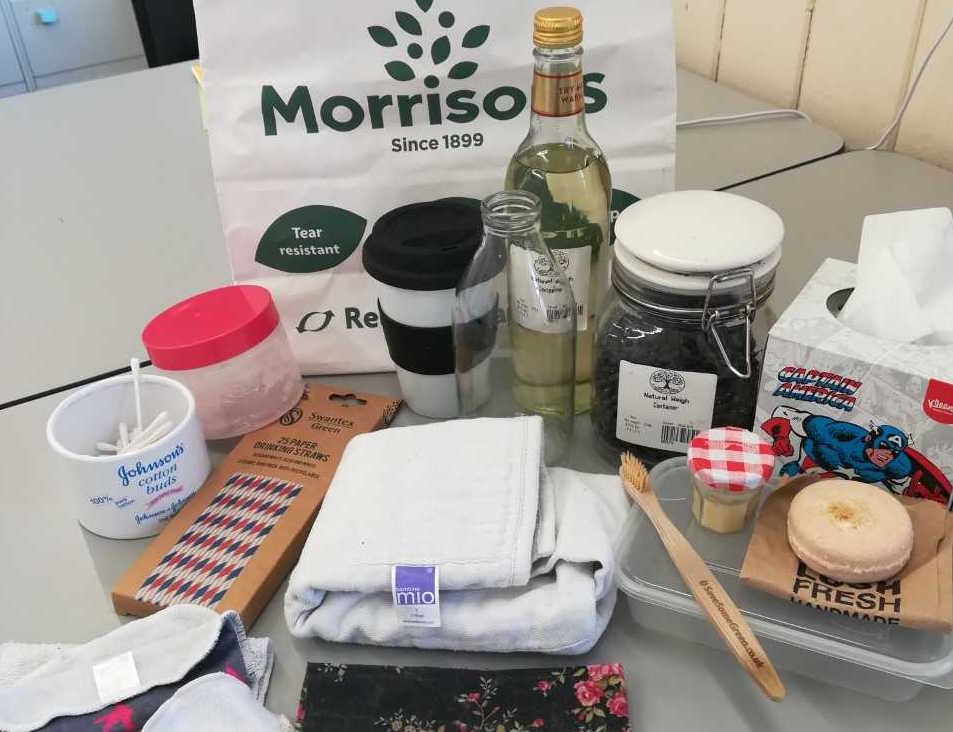 Making a difference
One workshop attendee mentioned that her brother sometimes goes into the supermarket and dumps all his plastic packaging on the checkout. Discussing this as a group they decided that this probably just inconvenienced the workers at the supermarket and rarely got through to anyone higher up in management or the supply chain
Laura showed some serious alternatives to plastic. When making sandwiches, for example, she packs them with beeswax wraps rather than cling film. You can use beeswax wraps as a lid on a jar too – pack it over the top and the heat of your hand will close the air gap. It's antibacterial, nontoxic, and of course fully biodegradable. You can even make it at home should you wish to.
Then Laura showed a whole series of packaging and plastic free products, from body scrubs to shampoos, probably one of the easiest ways to cut plastic quite significantly from our lives.
One final tip from Laura: if you do have to buy something in a plastic bottle, buy it in bulk and/or in concentrate, thus reducing your plastic usage.
All in all it was a really successful session thinking about what little steps could be taken to improve our sustainability practices.
The EVI has been improving the sustainability of the building and running sustainability workshops as part of a WCVA supported project made possible through the Landfill Disposals Tax Communities Scheme. We have already carried out work to improve the air heat pumps and the lighting at the EVI.