Comments Off

on Adnewyddiad £250,000 Adeilad Hanesyddol EVI
Cynhaliwyd ymgynghoriad gyda defnyddwyr rheolaidd Canolfan EVI, yr institiwt hynaf yng Nghymru, ac mae'r grant yma wedi caniatáu i ni gyflawni llawer o'r gofynion o'r ymgynghoriad yma. Roedd dros 57% eisiau gofod gardd hamddenol i ddysgu a chyfarfod pobl ac roedd 45% eisiau gofod ar gyfer arddangosfeydd celf a ffotograffiaeth.
Gofod gardd newydd
Roedd gardd yr EVI yn ardal nad oedd yn cael ei ddefnyddio, gyda gordyfiant a ffensys anniogel, Roedd y gwaith tirwedd a llawrwaith yn ymdrech logistaidd enfawr gyda sawl her. Ar ôl cwblhau'r gwaith adeiladol yn yr ardd, roedd yr ardal, na ellir ei ddefnyddio cynt, wedi cael ei drawsffurfio'n ofod tawel ar gyfer dysgu, gweithgareddau, cyfarfodydd a llesiant.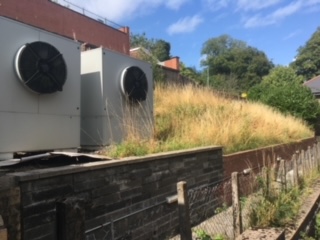 Yn dilyn gorffen yr holl lawrwaith, gosodwyd llefydd eistedd, meinciau picnic a phlanwyr trwy Grantiau Adferiad COVID-19 Canol Trefi Cyngor Bwrdeistref Sirol Blaenau Gwent.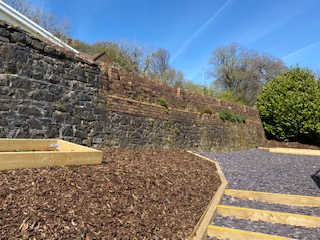 Roedd prosiect amgylcheddol Arian i Bawb y Loteri Genedlaethol yn caniatáu i wirfoddolwyr yr EVI i greu gofod llesiant yn yr ardd wrth blannu blodau sydd yn gyfeillgar i wenyn, perlysiau, ffrwythau a llysiau yn ardd yr EVI.
Gosodwyd mesuriadau diogelwch newydd gan osod grisiau tân a ffensys diogelwch newydd yn yr ardd.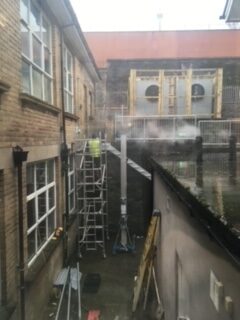 Gosod to newydd
Roedd to newydd yn hanfodol i gynaladwyedd adeilad EVI. Yn dilyn sawl achos o ddŵr yn gollwng, teils yn llithro o hyd, ac angen newid y landeri gan ei fod yn achosi difrod dŵr i'r adeilad.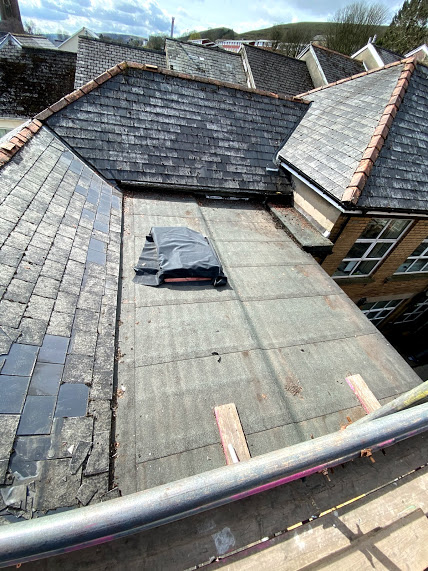 Datblygiadau pellach
Mae'r rhaglen Cyfleusterau Cymunedol wedi ariannu sawl cyfleuster arall yn yr EVI, gan gynnwys:
– Taflunydd ansawdd sinema a sgrin 4m o led
– Cyfleusterau arddangos i artistiaid a ffotograffwyr
– Cyfleusterau newid babanod
– Dau 'llwybr mynedfa/allanfa unffordd' COVID ddiogel i ddysgwyr a chleientiaid.
– Atgyweiriadau hanfodol ac adferiad y grisiau
– System intercom a CCTV newydd
– Uwchraddio gwres
– Gofod swyddfa/storio mewn ardaloedd annefnyddadwy cynt
– Mynedfa newydd i Hyfforddiant ACT
– System intercom newydd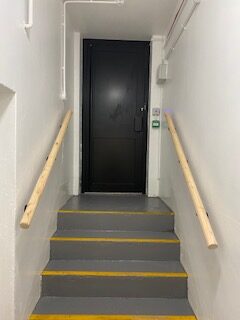 Adnewyddu grisiau'r EVI
Mae Cronfa Rhaglen Cyfleusterau Cymunedol Llywodraeth Cymru wedi diogelu'r adeilad cymunedol yma. Mae atgyweiriadau hanfodol wedi'u cwblhau, diogelwch COVID wedi ei fwyhau, gofodau annefnyddadwy bellach yn cael eu defnyddio a chyfleusterau ychwanegol ar gael i'r gymuned.
Rydym yn falch o gyhoeddi bod yr adnewyddiad a'r atgyweiriadau hanfodol wedi'u cwblhau, ac edrychwn ymlaen at gael agor ein drysau i'r gymuned eto yn y dyfodol. Ar hyn o bryd, mae'r EVI yn agored i wasanaethau apwyntiad yn unig. I gael gwybod y diweddaraf am yr EVI dilynwch ar gyfryngau cymdeithasol. Bydd unrhyw newyddion am ail-agor yn cael ei bostio ar wefan yr EVI ac ar ein tudalennau Facebook a Twitter.