Comments Off

on FREE SOCIAL MEDIA TRAINING: Get your service seen and heard in Blaenau Gwent!
Expert advice on how to use social media to promote your service in Blaenau Gwent!
What can I expect?
Guidance on  how you can increase engagement and promote your service on social media to get seen and heard in Blaenau Gwent and beyond! Join this 2.5 hour insightful and informative free-of-charge online social media training session with industry expert, Andrew Collins.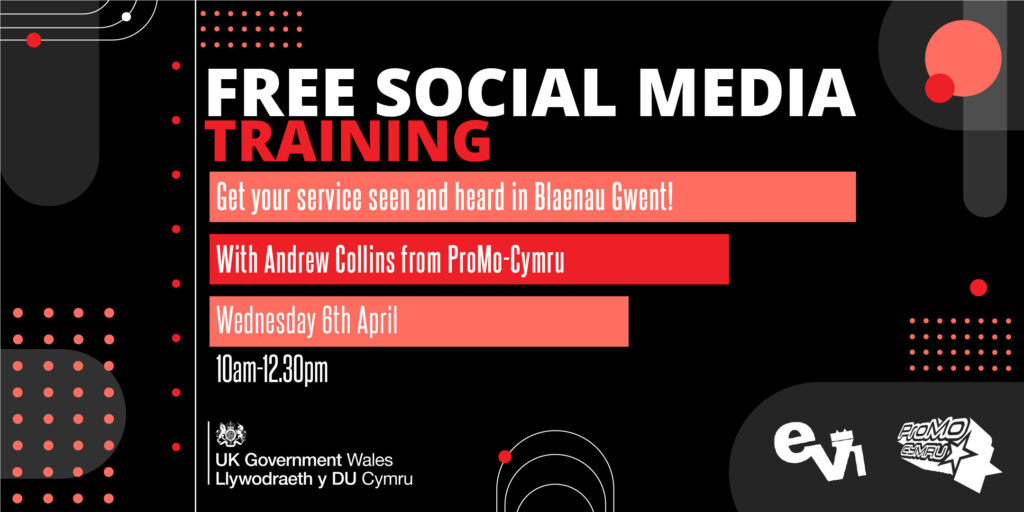 During this session you'll:
·  Explore everything you need to know about social media trends in 2022
· Get to grips with short-form video (TikTok, Instagram reels and YouTube shorts)
· Receive free and easy social media tips and tricks to save you time and money
· Learn the benefits of paid social media ads and how to harness them for your organisation or business
· Beat the algorithms by understanding how they work and use them to your advantage
· Gain valuable social media skills to help promote your service in Blaenau Gwent
Who is this training for?
This free online session is for businesses or voluntary organisations that operate within the Blaenau Gwent local authority area who want to take their social media to the next level and improve their pages.
What's the course format?
This session is offered in English and will be delivered on Zoom.
Date and Duration
Join us on Wednesday 6th April 2022 10am – 12.30pm 
Spaces are limited on a first-come first-served basis.
Contact andrew@promo.cymru for any training or eligibility queries.
——————-
This training is being delivered by ProMo-Cymru. The facilitation of the course is being funded by the UK Government through the UK Community Renewal Fund*.
ProMo-Cymru offers a range of tailored training sessions and bespoke consultancy options. Find out more here https://www.promo.cymru/services/training-and-consulting/ 
*The UK Community Renewal Fund is a UK Government programme for 2021/22. This aims to support people and communities most in need across the UK to pilot programmes and new approaches to prepare for the UK Shared Prosperity Fund. It invests in skills, community and place, local business, and supporting people into employment. For more information, visit https://www.gov.uk/government/publications/uk-community-renewal-fundprospectus