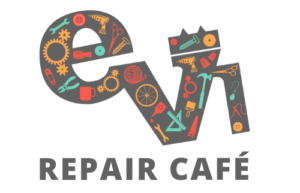 Come along to EVI Repair Café, where sewing volunteers Sally & Sue can help repair your damaged textiles and clothing items for free; from replacing buttons and zips and sewing on patches, to mending a rip or fixing a hem.
We also have volunteers who can help fix your:
– Bicycles
– Household electrical items
– Jewellery
– Woodwork
…and more!
Instead of throwing your broken items away, bring them along on Monday 17th April (2pm – 4pm) to save yourself some money and reduce items going to landfill – or just come along for a chat and free cuppa in a warm and friendly space.
EVI Repair Café runs on the third Monday of every month, scroll down for a list of upcoming dates.
If you have the skills to fix any of these items and would like to volunteer, we would love to hear from you. Get in touch! Email info@evi.cymru, ring 01495708022 or pop in.
PLEASE NOTE: Our volunteers will do everything they can to help fix your item, but unfortunately some electrical items are either too expensive to repair or are not repairable.
Those items that are not repairable following a visit to one of our Repair Cafes can be recycled at the Authority's household waste and recycling centres:
New Vale Recycling Centre—- Closed every Thursday.
Waun-y-Pound Industrial Estate,
Ebbw Vale,
NP23 6PL
Roseheyworth Recycling Centre—- Closed every Tuesday
Roseheyworth Business Park,
Roseheyworth Road,
Abertillery,
NP13 1SP
Both sites are open 6 days a week from 9am to 5:30pm.The last entry to the sites is at 5:20pm.
Repair Cafe Dates for the diary:
Monday 17th April, 2023
Monday 15th May, 2023
Monday 19th June, 2023
Monday 17th July, 2023
Monday 21st August, 2023
Monday 18th September, 2023
Monday 16th October, 2023
Monday 20th November, 2023
Monday 18th December, 2023
Supported by Repair Café Wales.