Join Mindfulness Meditation & Relaxation sessions with Dr Andrew Lewis at EVI and learn techniques to help ease feelings of anxiety, distress and unhappiness in mind and body. The sessions will help you to;
– Come home to awareness
– Calm the body and mind
– Discover peace and tranquillity
– Cultivate contentment
– Manage time, productivity and purpose
Mindfulness techniques and understanding can help you deal more confidently with your problems, worries & fears, make better decisions, enjoy more positive relationships with others, and work effectively with negative emotions rather than become overwhelmed by them.
Andrew is a Registered Meditation Teacher and has delivered Mindfulness courses and Relaxation/Meditation sessions for established service providers and charities, GP practices, hospitals and day centres, private groups, individual clients, schools, colleges, evening classes, and in the workplace/corporate environment. Find out more here www.equanimity.wales.
Take some important time for yourself and join us at EVI. No advance booking required. Email equanimity.org@gmail.com with any queries.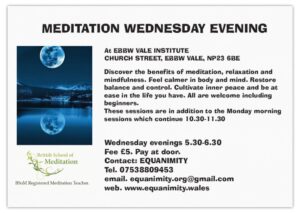 EVI is currently funded by the UK Gov through the UK Shared Prosperity Fund. Click here to find out more.