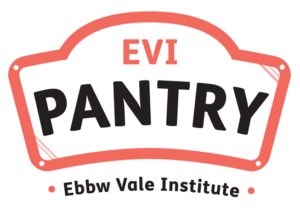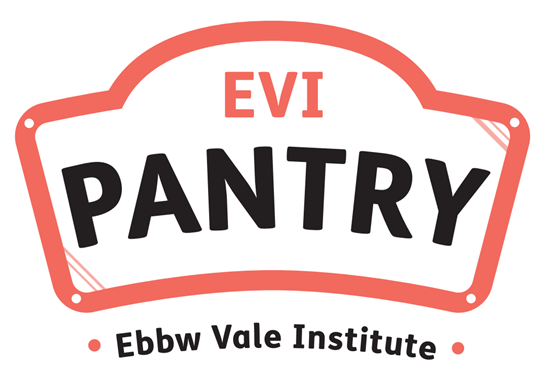 MEMBERSHIP MORNING | EVI PANTRY
We will be holding a Membership Morning on February 1st for you to join our upcoming EVI Community Pantry – the first of it's kind in Blaenau Gwent! Pop in for a free cuppa and cake on Wednesday 1st Feb, 10am – 12pm to find out more and get your name down. Please be aware that membership spaces are limited and are available on a first come, first served basis. Membership is open to everyone.
We also need volunteers and donations (food, toiletries or monetary) to help run and stock the Pantry. If you're interested in supporting this exciting community initiative, come along on Wednesday 1st to chat to our friendly team and drop-off any donations.
The Pantry will then officially launch Monday 20th February and will run every Monday 10am – 12pm & 2pm – 4pm. Once the Pantry is up and running, we will look to put on another weekday with differing times.
The morning is also a chance for you to find out more about our Community Bank and upcoming Repair Café.
Can't make it? You can email megan@promo.cymru to arrange a visit to find out more and put your name down. Our online membership portal will launch soon if you would prefer to register online.
What is EVI Pantry?
The EVI Pantry is part of the Your Local Pantry scheme. It will stock an abundant and wide range of top-quality food including fresh fruit and veg, frozen and chilled food, meat and dairy products, and long-life tinned and packaged food. The Pantry will be just like a shop, in that you choose the food you want from the shelves, and will be run by uniformed staff and volunteers.
The Pantry is open to all. You don't need a referral to come along,  anyone who lives in Blaenau Gwent can join. You can join us for as long as you want, visiting every week or just occasionally – it's up to you!
Cut your grocery bills
For just £4 per visit, you can choose 10 – 12 quality grocery items (sometimes more), which would normally total £20-£25 in the supermarket. Members often save up to £1,000 a year on shopping bills! The £4 is reinvested straight back into the pantry to maintain food orders and services.
Local Community Pantries
Pantries soften the blow of high living costs and create the conditions for communities to grow and thrive, by bringing people together around food. Pantries strengthen communities, foster friendships, loosen the grip of poverty, build dignity and agency, prevent waste, and contribute to healthier, happier lives. Each Pantry also has a cherished role as a neighbourhood hub, often serving as a springboard to other initiatives and ideas. Our Pantry will coincide with our EVI Repair Café and Community Bank.
Learn more about the Your Local Pantry scheme here.
Interested in offering a food or monetary donation, or would like to get involved and become a volunteer? Email info@evi.cymru or pop in!