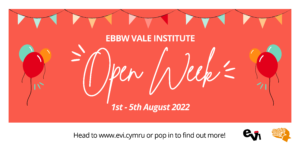 Join us for a week full of free activities and food to celebrate EVI opening its doors again!
Family crafting and wildlife activities, cultural exhibition, wellbeing classes, business/ digital support workshops, afternoon tea, creative writing and singing, and the opening of our new 'Café at EVI' – we have a week full of free and fun activities planned for all ages in Blaenau Gwent!
To celebrate our Open Week and the new 'Café at EVI', all children will be provided with a free, healthy lunchbox to eat in or takeaway throughout the week. Keep checking this page for daily updates, and don't hesitate to get in touch with any queries by emailing megan@promo.cymru, ringing 01495708022 or popping in.
Some events will require pre-booking, others are available for anyone to pop in. Click the link below to see our full programme of activities. Come and join us!
This Open Week is funded by the UK Government through the UK Community Renewal Fund.