Comments Off

on Dathliadau Nadolig a Chynaladwyedd
Gwahoddwyd teuluoedd Glynebwy i ddigwyddiad Dathlu Nadoligaidd yn yr EVI yn ddiweddar. Roeddem yn nodi diwedd prosiect cynaladwyedd blwyddyn o hyd, yn gwella effeithlonrwydd ynni yn yr adeilad hanesyddol ac yn hyfforddi gwirfoddolwyr o'r gymuned.
Yn fis Rhagfyr 2019 derbyniodd yr EVI £32.523 o Gynllun Cymunedau'r Dreth Gwarediadau Tirlenwi, rhaglen Llywodraeth Cymru sydd yn cael ei reoli gan CGGC. Dros y flwyddyn rydym wedi gwella'r gwresogi a'r goleuadau yn yr EVI, wedi cynnal gweithdy Llygredd Plastig gyda phobl ifanc, creu paradwys trychfilod yn yr ardd o flaen yr adeilad yn ystod gweithdy garddio bywyd gwyllt, wedi hyfforddi gwirfoddolwyr mewn ysgrifennu blogiau a chreu fideos gan greu banc o erthyglau ar ein gwefan, ac yn olaf, dathliad Nadolig mawr gyda thwist cynaliadwy.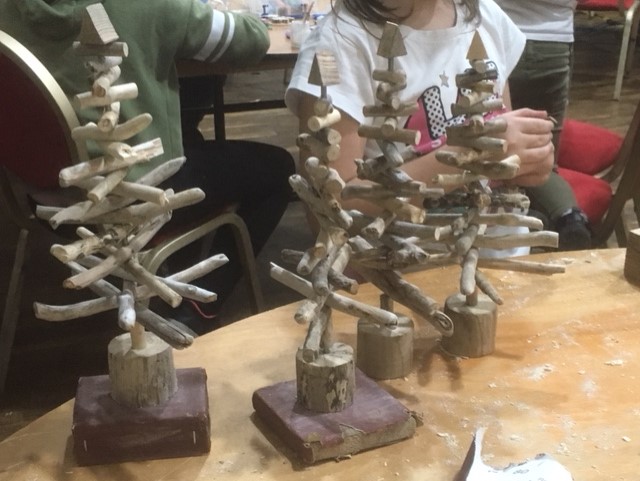 Gwahoddiad i ddathlu
Ymestynnwyd gwahoddiad i bobl y gymuned i ddod i ymuno gyda ni ar ddiwedd mis Tachwedd i ddathlu Nadolig cynaliadwy gyda bwyd a disgo pŵer pedal i'r plant, gwin poeth a mins pei i'r rhieni, a gweithdai yn creu nwyddau Nadolig o ddefnyddiau wedi'u hailgylchu.
Roedd 100 o lefydd ar gael, a llenwyd y rhain yn sydyn iawn. Darparwyd adloniant gan U3A (University of the Third Age) fu'n canu ac yn cynnal gweithgareddau canu i'r plant. Roedd y bwyd yn llwyddiant mawr, a phob briwsyn wedi'i fwyta, dim gwastraff o gwbl!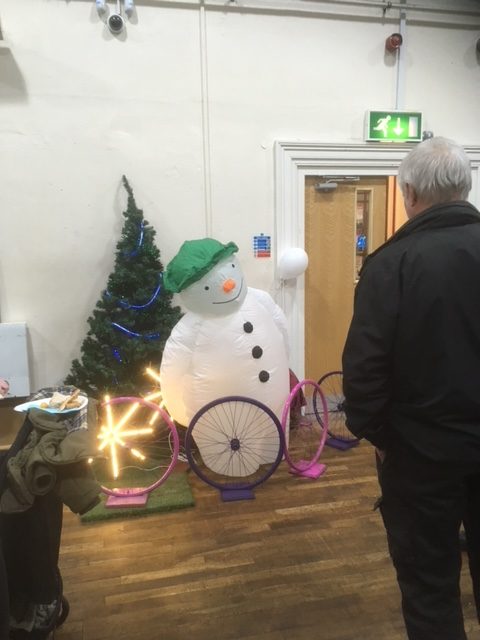 Pweru parti
Roedd pawb wedi gwirioni gyda'r disgo pŵer pedal, a'r dyn eira, gyda'r plant yn cadw'r gerddoriaeth i fynd, y dyn eira llawn aer a goleuadau'r goeden Nadolig i fflachio drwy'r nos. Pŵer y bobl!
Roedd y gweithdai yn boblogaidd iawn, gyda phawb yn cymryd rhan. Roedd pobl wrth eu boddau yn cael creu'r coed Nadolig a'r bôbls allan o froc môr a hen baledi, dysgu ychydig o pyrograffeg a chael mynd â'r rhain gartref gyda nhw.
Daeth dau o'r gwirfoddolwyr fu'n rhan o'n hyfforddiant ysgrifennu blog draw i helpu. Roedd Jamie Lee a Victoria yn gymorth mawr gyda'r gweithdai ac roeddem wrth ein boddau cael clywed sut roedd erthygl Jamie Lee, Plannu Coed i Achub y Byd, wedi'u hysbrydoli i blannu coed mewn coedwig gwarchodfa.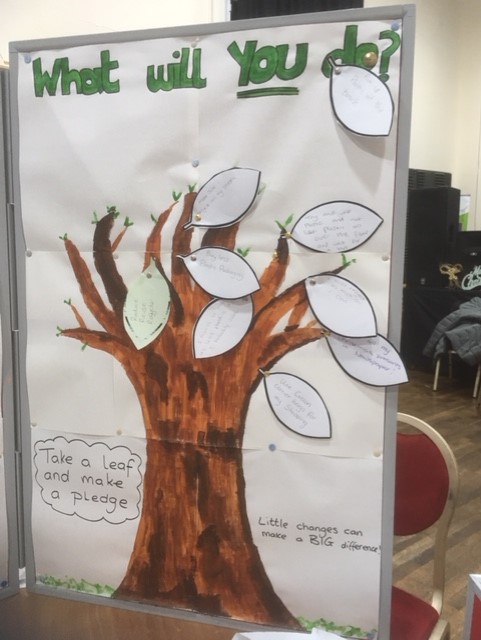 Addewid i fod yn wyrddach
Daeth adran ailgylchu a gwastraff Cyngor Blaenau Gwent draw i roi gwybodaeth a chyngor am gasgliadau ailgylchu wythnosol.
Daeth dysgwyr Llamau (fu'n cymryd rhan yn rhai o'n gweithdai) draw hefyd gydag arddangosfa ryngweithiol. Roeddent yn gofyn i bobl i wneud addewidion ar gyfer Nadolig cynaliadwy ac i helpu'r amgylchedd.
"Cafodd y dysgwyr amser da iawn yn gweithio â'i gilydd i greu'r byrddau arddangos, a dysgodd pawb rywbeth newydd am gynaladwyedd, a gobeithio bydd y negeseuon yma yn cael eu rhannu." meddai tiwtor Learning 4 Life Llamau.
Cafwyd addewidion gwych ar y goeden addewidion. Dyma ychydig ohonynt:
– Defnyddio bagiau cotwm i siopa
– Addo ceisio defnyddio'r swm lleiaf o blastig bosib
– Lapio anrhegion Nadolig mewn papur newydd!
– Ailgylchu cymaint ag sy'n bosib
– Clirio plastig oddi ar y traeth
Roedd Llamau yn cymryd archebion am glecars 'Dolig di-blastig ac yn cynnig awgrymiadau defnyddiol am ffyrdd cyfeillgar i'r amgylchedd i lapio anrhegion.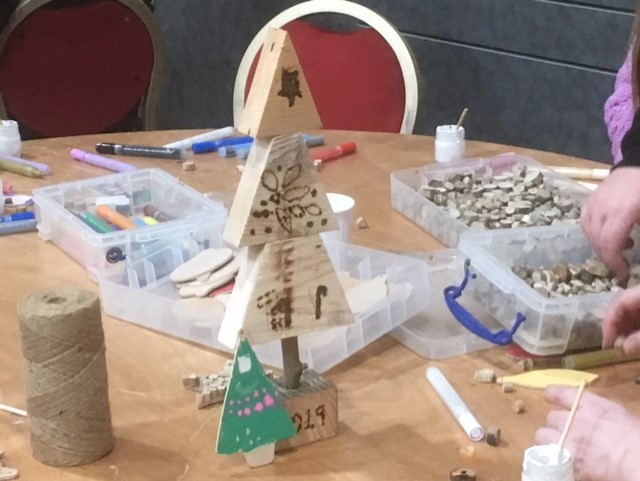 Nid dyma'r diwedd
Roedd Samantha James, Cydlynydd Gweithrediadau'r EVI, wrth ei bodd gyda llwyddiant y digwyddiad ac yn meddwl mai dyma oedd y ffordd berffaith i gloi'r prosiect blwyddyn.
"Rydym wedi cyrraedd pen taith y prosiect hwn, ac wedi cyflawni cymaint yma yn yr EVI," meddai.
"Rydym wedi helpu codi ymwybyddiaeth o fioamrywiaeth a materion amgylcheddol ac mae'r gwirfoddolwyr wedi bod yn integrol i hyn. Maent wedi helpu gyda'r ymgyrch cyfathrebu. Ar ôl derbyn hyfforddiant mae rhai ohonynt wedi symud ymlaen i helpu prosiectau amgylcheddol eraill. Roedd y digwyddiad Nadolig yn ffordd berffaith i derfyn pethau, wrth gynnwys y gymuned gyfan yn yr hyn sydd wedi bod yn digwydd yma."
Ac nid dyma ddiwedd y daith i'r gwaith cynaladwyedd yn yr EVI meddai Sam.
"Dim ond megis cychwyn mae'r gwaith i greu EVI mwy cynaliadwy a gwyrddach. Rydym wedi dysgu llawer o wybodaeth a sgiliau newydd ar hyd y daith ac yn awyddus i barhau'r gwaith yma".