Comments Off

on Creating a Bug Paradise For Biodiversity
At the start of June a group of young people took part in a Wildlife Garden Workshop at the Ebbw Vale Institute. They created bug hotels and seed bombs to help pollinating bugs and improve the area around the building.
Young people from Llamau, Act Training and Blaenau Gwent Youth Services took part in this special workshop run by Eggseeds, an organisation that delivers outdoor education teaching people about nature and biodiversity. The workshop was organised as part of a series of sustainability measures taking place at the EVI as part of a WCVA supported project made possible through the Landfill Disposals Tax Communities Scheme.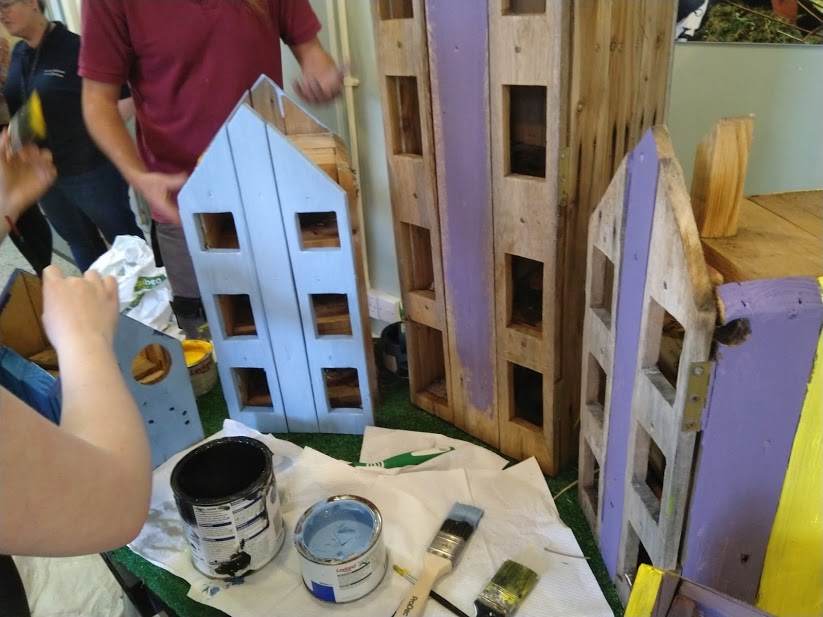 Vacancies at the Bug Hotel
The workshop began by building bug hotels, small wooden buildings that can house all kinds of insects and even some birds. These wooden structures will be attached to a big slab of AstroTurf and placed just outside the front of the EVI. This will create a small, elevated street for bugs to thrive in inside the community garden.
Before the buildings could be made ready for the bugs to move in though, it was time to smarten them up a little to catch the eye of passers-by. The young people got to work by painting the bug houses and bug hotels!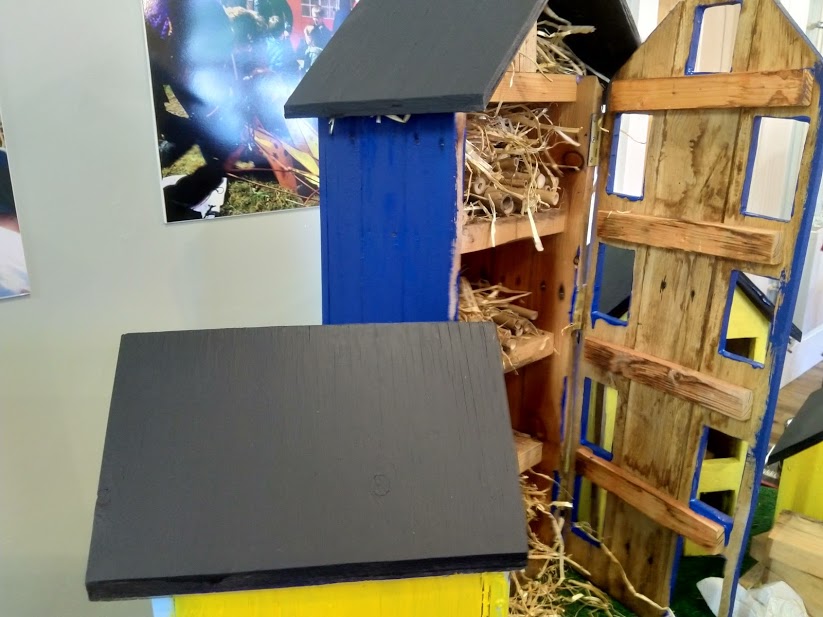 Attracting the bugs
"The three taller structures will mainly attract flying insects. Bees, butterflies and lacewings might like to nest inside them" explained Sam from Eggseeds.
"We stuffed some of the smaller houses full of sawdust with just a few small gaps to get in. This makes it ideal for beetles to burrow through. We added larger round holes to some of the smaller houses too, to make an ideal nesting place for birds."
Once painted, the chalkboard roofs (good for writing messages on) were nailed to the buildings with power tools. The houses were then stuffed with sawdust and cut bamboo tubes. Sawdust stuffing creates a malleable environment for insects to burrow and nest inside. Think of all the extra surface area for their tiny bodies to slip into and crawl along. It's hoped that the bamboo tubes will become a place for bees to lay eggs.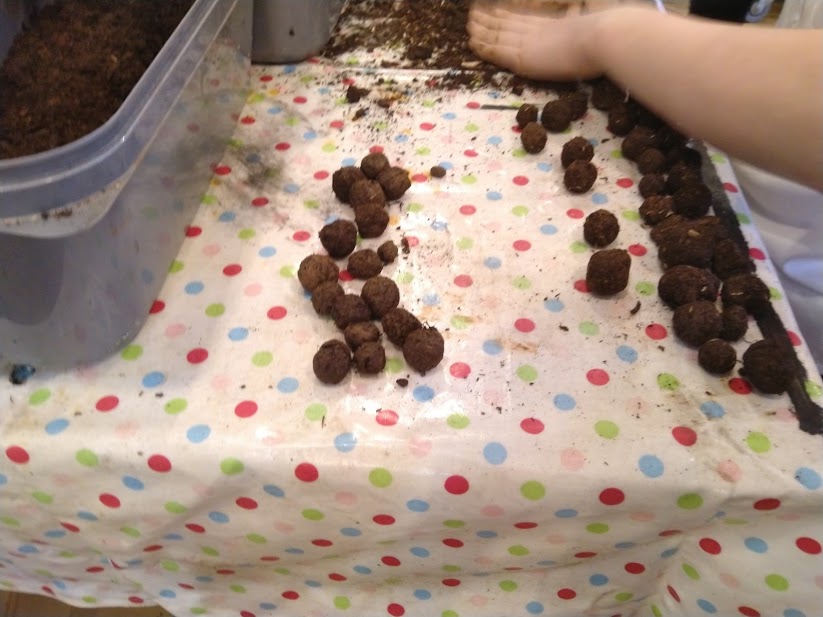 Bombing for blooms
With the bug buildings looking fantastic it was time to move on to the next activity – creating seed bombs. Seed bombing is an ancient Japanese organic farming technique, a way of seeding which is kinder to the land and protects the seeds from birds and other wildlife. This is a great way to increase biodiversity in your local area.
They used seeds that sprout hardy wildflowers. As the seeds are encased inside hard-packed earth, birds can't easily eat them, giving them time to start growing.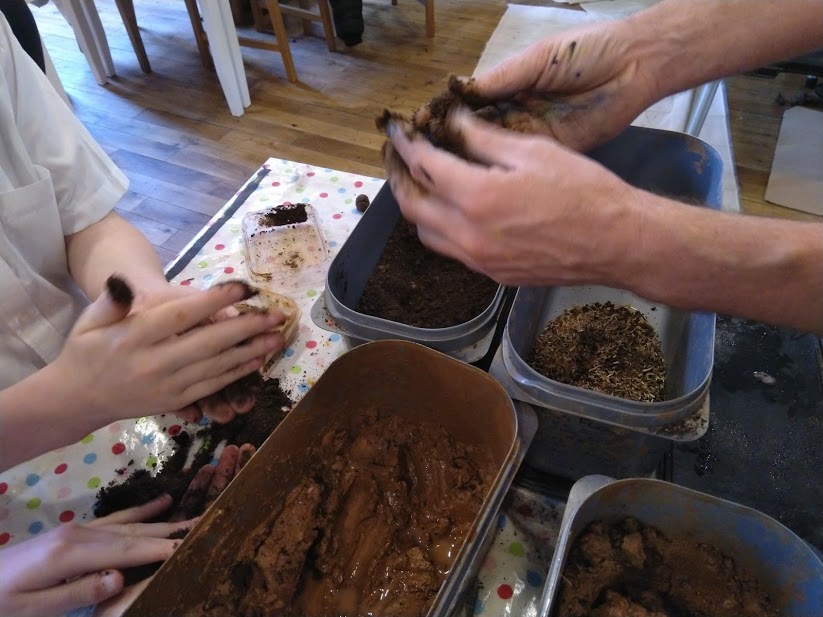 How to create your own Seed Bombs:
Step 1: Scoop up some wet clay and mix it with some soil. Roll into a ball and make a dent with your finger
Step 2: Pick up two or three seeds and drop them into the dent. Any more and the seeds will be competing for resources and won't grow to their full potensial
Step 3: Knead the seeds into the centre of the ball
Step 4: Throw the seed bomb onto any fertile or waste ground and hope that plants will grow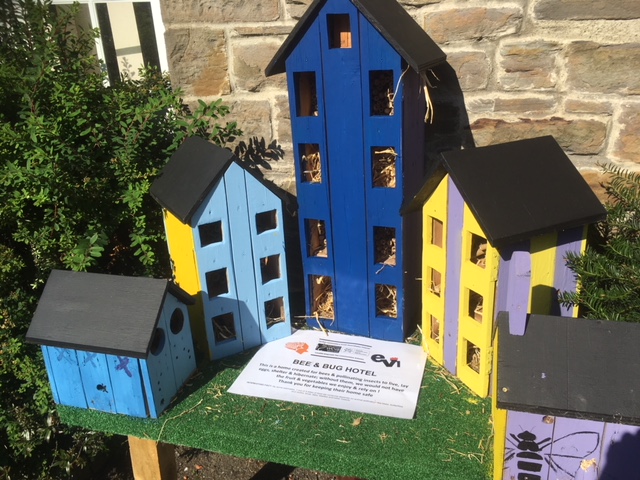 Be a wildlife hero
It doesn't take much to make a difference to the biodiversity of your local area. Why not take some of the ideas above and create a paradise for birds and insects in your own garden? The participants were really happy with the finished results and headed off home having learnt some valuable skills thanks to the Eggseeds team for all their expertise and hard work.
---
This workshop was funded through the Landfill Disposals Tax Communities Scheme through the WCVA. The EVI received funding to improve energy efficiency at the building, increase the local biodiversity and involving the community through volunteering.
This is the latest in a series of articles on the many ways we're promoting sustainability at the Ebbw Vale Institute. Read the others here: